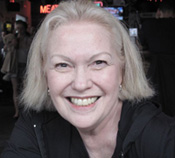 Diane grew up in Brooklyn during the '40's as an independent, enthusiastic and curious child.
When World War 2 ended, integration slowly came about, the Borough became culturally diverse and the beloved Brooklyn Dodgers left Ebbets Field. What remained were the brownstones, the grand boulevards, the parks, the zoo, the Brooklyn Museum and the Brooklyn Botanical Garden. All of these continue to be an inspiration for Diane's creative life.

The street is her most important subject matter. Her style is spontaneous, graphic, edgy and recognizable.

As a student she majored in fashion design, interior design, painting and photography.
As a story teller, she makes photographs based upon her imagination, memories, historical and current events.
She exhibits at the National Arts Club, New York City, Guild Hall, East Hampton, New York, Montauk, New York, Southampton, New York and venues throughout the United States.

Her clients are collectors, architects, interior designers, authors and people who love her style of photography.

Diane's work is available in various sizes, signed en verso with date and copyright, as limited edition prints using archival papers and inks.

She can be reached at 917-699-3579 or click here to email

dianetepperfotodesign.com
specializing in street and conceptual photography